TikTok Shop Graduate Development Program
Lowongan Pekerjaan | 01 September 2022 08:36 wib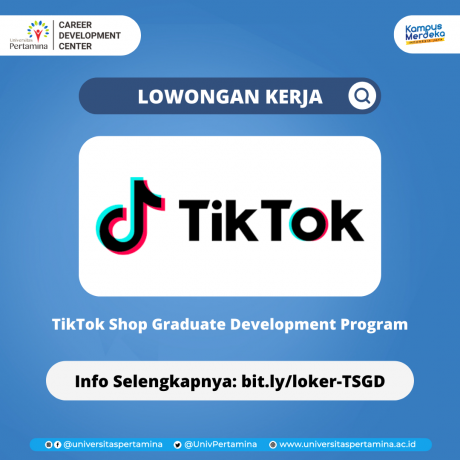 TikTok Shop Graduate Development Program is a 24-month long graduate trainee program, aimed at developing budding talents to be well-versed with the e-commerce world. The program consists of multiple job rotations where you will experience and learn about the different roles in our e-commerce team. Engage and empower sellers, participate in running campaigns, build strong networks with leading brands and creators, and more! Join us today for an exciting opportunity to be part of our pioneering group of TikTok Shop graduate trainees!
Perks and Benefits
- Competitive salary and benefits
- Intensive training program to assist in each rotation track
- Strong learning opportunities from peers
- Chance to lead and be a part of high impact projects
- Diverse work environment
- Possibility of an international assignment
- Opportunity to grow and be our future leaders
Qualifications
- Bachelor's degree or Master's degree in any field with maximum 1 year full-time work experience
- Intellectual curiosity and adept at learning new concepts and skills
- Self-motivated to push through and ensure project success
- Excellent interpersonal skills
- English proficiency
Selection Process
1. Assessment
2. Interview with managers
3. Case study presentation
4. Interview with leaders
5. Interview with HR Panel
6. Onboard in Nov 2022
TikTok is committed to creating an inclusive space where employees are valued for their skills, experiences, and unique perspectives. Our platform connects people from across the globe and so does our workplace. At TikTok, our mission is to inspire creativity and bring joy. To achieve that goal, we are committed to celebrating our diverse voices and to creating an environment that reflects the many communities we reach. We are passionate about this and hope you are too.
Application Opens until Oct 15, 2022
Link Application : https://careers.tiktok.com/position/7134631876928473374/detail?spread=5MWH5CQ