Lowongan Kerja di PT Gunung Raja Paksi Tbk
Lowongan Pekerjaan | 05 Oktober 2022 14:32 wib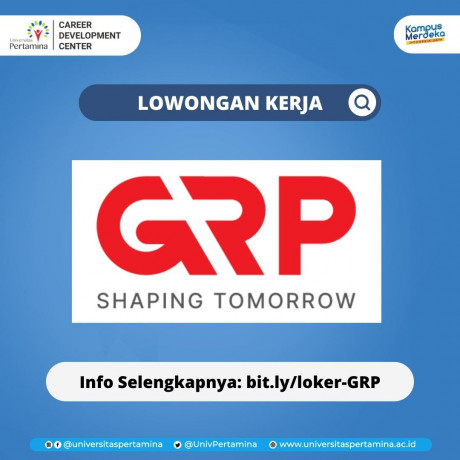 Halo Kakak Alumni Universitas Pertamina, segera dapatkan kesempatan berkarir di PT Gunung Raja Paksi Tbk
ADMIN LEARNING & DEVELOPMENT
Job Description:
Menyiapkan dokumen yang diperlukan untuk kegiatan training
Mengumpulkan dokumen yang berkaitan dengan training
Mengolah data hasil pelaksanaan training
Membuat laporan periodik
Qualification:
Fresh Graduate atau minimum pengalaman 1 tahun
Memahami TNA (Training Needs Analysis)
Mampu melakukan proses administrasi dengan baik
Bersedia bekerja on site di Head Office - Cibitung



SAFETY OFFICER
Main Responsibilites:
Conducting investigations for employees who have work accidents and providing assistance to hospitals to find out the cause of work-related injuries or illnesses.
Conduct or coordinate worker training in areas such as safety laws and regulations, hazardous condition monitoring, and use of safety equipment
Make a work accident report form to be submitted to HR
Make a Lost Time Injury report to BOD.
Make a P2K3 Report every 3 months to the Disnaker.
Make reports of safety patrol findings for BU and SU heads
Inspect facilities and safety equipment to identify and correct potential hazards, and to ensure safety regulation compliance.
Recommend procedures for detection, prevention, and elimination of physical, chemical, or other hazards.
Make a warning letter for health & safety violations to the BU & SU head, if a serious violation will be given to HR.
Make PR/MR for all work at HSE based on existing needs, such as providing items such as safety helmets and vests and also providing services such as consultants or firefighters.
Plotting the monthly budget to ensure the remaining expenses from the HSE budget
Implement and monitor the quality management system (ISO 9001:2015, ISO 14001:2015, ISO 45001:2018)
Implement all related management systems with occupational safety and health to realize safety and health work for both yourself and coworkers.
Qualifications:
Bachelor's degree engineering. Have experienced min 3-5 years.
Knowledge of the safety regulation, safety procedure, fire fighting procedure and first aid procedure.
Knowledge of Hazard source in factory
Certification K3 Umum
Can create HIRA (High Identification Risk Assessment)
License Safety Driver Ambulance
Have Experience in system SMK3
Office Placement : Cibitung, West Java
ORGANIZATION DEVELOPMENT SPECIALIST
Main Responsibilites:
Proper mapping and documentation of organization chart
Ensure each position are traceable and auditable in the organization chart and HR system
Conduct organization analysis and provide recommendation of organization design
To conduct proper job analysis for each job in the organization (competency, requirements, output and process)
Document and codified best practices and templates of job description
To support OD-PD Manager to set job evaluation team and JE processes
Maintain and update position grade database
Workload analysis
Organization effectiveness implementation and change management support
Support on development of competency matrix
Ad hoc project as directed in relation to Organization Management
Implement all related management systems with occupational safety and health to realize safety and health work for both oneself and coworkers.
Qualifications:
Bachelor's Degree in any major. Preferably in psychology major or business management
Minimum 2 years' experience in organization development function, HR generalist, or Business Partner
Solid knowledge of organization design and development concept and framework, job analysis and evaluation concept using Position Class (Mercer's) or HRL (Hay Reference Level).
Strong interpersonal, analytical and data interpretation logic to translate information from qualitative to quantitative measurement
Having good knowledge in business process mapping is a must
Office Placement : Cibitung, West Java
ADDITIVE & REFRACTORY STAFF
Main Responsibility:
Handle end to end procurement process
Manage vendor database
Prepare data for purchasing order
Select for the fittest vendor
Required Qualification:
Minimum Diploma Degree
Minimum 2 years experience in supply chain management
Has SAP knowledge
Fluent in English, speaking and writing
Willing to work in Cikarang
Apply here: https://grp.darwinbox.com/ms/candidate/careers