Operations Apprenticeship Program - Karawang
Lowongan | 14 Nopember 2022 00:00 wib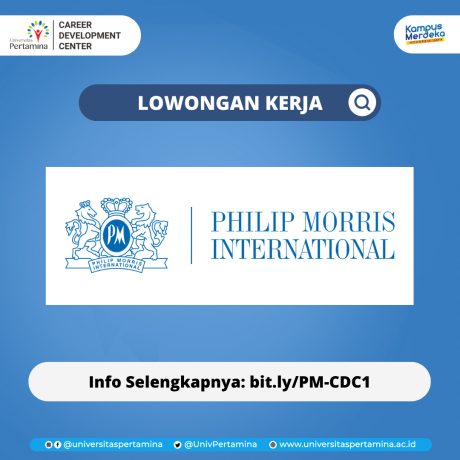 Be a part of a revolutionary change At PMI, we've chosen to do something incredible. We're totally transforming our business and building our future on one clear purpose – to deliver a smoke-free future. With huge change, comes huge opportunity. So, wherever you join us, you'll enjoy the freedom to dream up and deliver better, brighter solutions and the space to move your career forward in endlessly different directions.
Are you eager to embrace an opportunity like no other? It's time to join us as our Apprentice!
We are seeking for final year university students and fresh graduates with maximum of 1-year working experience to join our Apprenticeship Program. You will be part of a team where you can develop and improve yourself, also make an impact by providing solution in a specific apprenticeship project.
Who we're looking for:
• Bachelor's Degree undergraduate students in 7th or 8th semester, or fresh graduates with Engineering background (minimum GPA 3.00 out of 4.00)
• Have excellent communication skills
• Active in organization
• Willing to join the program for 6 months
• Willing to work on site in Karawang Factory (WFO)
What we offer
Our success depends on our talented employees who come to work here every single day with a sense of purpose and an appetite for progress. Join PMI and you too can:
• Seize the freedom to define your future and ours. We'll empower you to take risks, experiment and explore.
• Be part of an inclusive, diverse culture, where everyone's contribution is respected; collaborate with some of the world's best people and feel like you belong.
• Pursue your ambitions and develop your skills with a global business – our staggering size and scale provides endless opportunities to progress.
• Take pride in delivering our promise to society: to deliver a smoke-free future
https://pmi.avature.net/en_US/ExternalCareers/ApplicationMethods?jobId=63168