Pfizer Indonesia Graduate Trainee Program
Lowongan Pekerjaan | 22 Nopember 2022 14:30 wib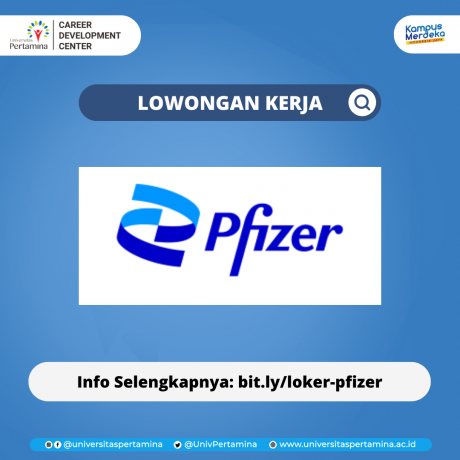 Pfizer Indonesia Graduate Trainee Program
If you love innovation, experience and being exposed to new environments, the Graduate Trainee Program is the ideal move for you
When you take on one of our Graduate Trainee Program, you become part of a team that's working to make the breakthroughs that change patients' lives, all over the world. You'll join a workforce in which everyone – no matter what their job title is – comes together to explore, discover, and grow. And you help to foster an inclusive culture in which everyone is valued for the unique contribution they make.
The 18-month program consists of a variety of meaningful assignments and projects for various departments in the company. These assignments will include exposure in: sales and marketing management, business development, project management, medical exposure and focus on training-on-the-job experience that is able to groom and build a strong foundation for the graduate especially within Pfizer Indonesia.
At the conclusion of the program, the graduates may be re-designated to a permanent functional role and thereafter continuing his / her journey.
Who are we looking for?
A potential candidate should be a recent graduate with a Bachelor's or Master's degree in Marketing /Management / Medical with a minimum GPA of 3.0

Demonstrated academic excellence
Passion and commitment for medical innovations / marketing area
Articulate with proactive problem-solving initiative
Ambitious, curious, flexible and open for new ideas
Internationally minded – social and intercultural
Pfizer Indonesia will start accepting applications on : November 16th – Nov 30th 2022
Ready to embark your journey with Pfizer? Join us: apply now!