Lowongan Kerja PT Unilever Oleochemical Indonesia
Lowongan Pekerjaan | 20 Maret 2023 14:00 wib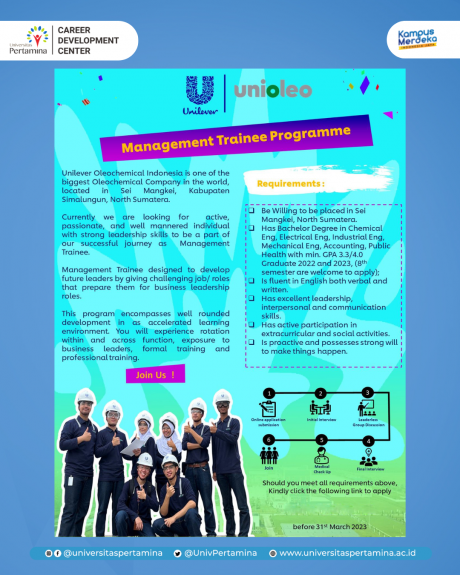 Management Trainee Programme
Qualification
Be Willing to be placed in Sei Mangkei, North Sumatera.
Has Bachelor Degree in Chemical Eng, Electrical Eng, Industrial Eng, Mechanical Eng, Accounting, Public Health with min. GPA 3.3/4.0 Graduate 2022 and 2023, (8th semester are welcome to apply);
Is fluent in English both verbal and written.
Has excellent leadership, interpersonal and communication skills.
Has active participation in extracurricular and social activities.
Is proactive and possesses strong will to make things happen.
Deadline: 31 Maret 2023
Link Apply : https://docs.google.com/forms/d/e/1FAIpQLSfdnkDhb2msDwFMki5d8N4GE6yOnetv9oau3CpdWAnjUrtheg/viewform