Ready Set Rise 2
Berita Umum | 18 Maret 2021 07:45 wib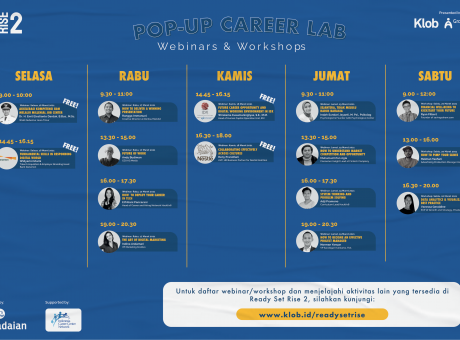 Are you READY for opportunities, eager to SET new standards, and willing to RISE to the challenge?
Virtual Jobfair, Ready Set Rise, kini hadir kembali mengajak para pencari kerja untuk bangkit kembali dari kegalauan dan burn-out dengan Pop-up Career Lab dan beragam lowongan kerja!
Ikuti sesi-sesi webinar dan workshop menarik, telusuri 200+ lowongan kerja dan magang dari puluhan perusahaan, serta eksplorasi paket-paket pembelajaran digital untuk pengembangan diri!
Kunjungi langsung
bit.ly/RSR2_UNIVPERTAMINA untuk informasi lebih lanjut!
Tunggu apa lagi? Let's Ready, Set, Rise!