Schlumberger AI Academy
Pelatihan | 02 Juli 2022 00:00 wib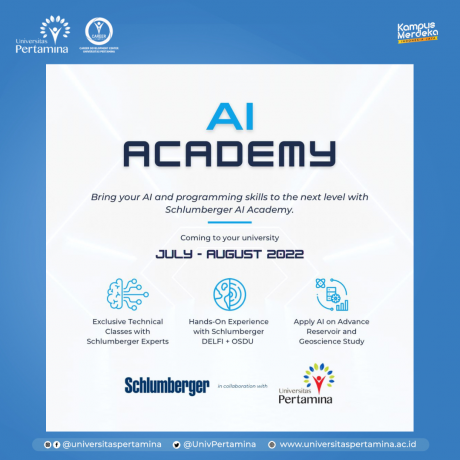 Bring your AI and Programming skills to the next level with Schlumberger AI Academy!
AI Academy is a Schlumberger global program designed for university students & professionals to enrich skills in Artificial Intelligence.
6 weeks program July-August 2022 Exclusive technical classes with schlumberger experts Hands-on experience with schlumberger DELFI+OSDU
Apply AI on advance reservoir and geoscience study

Requirement:
Universitas Pertamina students/alumni majoring in geophysical engineering, geological engineering, petroleum engineering, computer science, chemical engineering, electrical engineering.

Apply before July 15, 2022 at:
Lowongan Schlumberger AI Academy - PT Schlumberger Indonesia | Career-UP (universitaspertamina.ac.id)
Announcement : 17 July 2022