Vivo Mobile Indonesia Internship Program
Lowongan Pekerjaan | 09 Agustus 2022 11:07 wib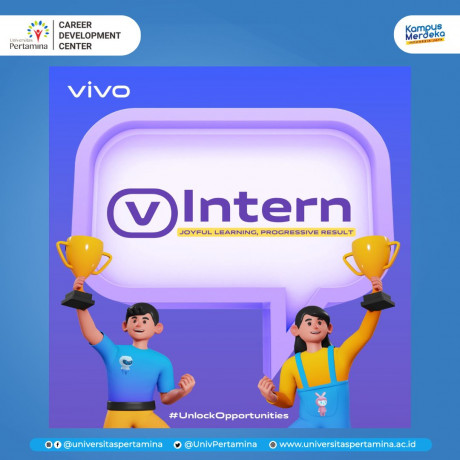 vIntern is an Internship Program held by vivo Mobile Indonesia in order to contribute more to society. We aim to create more opportunities for young generations who aspire to grow and learn in the telecommunications industry. By providing the best professional mentors from different fields, this program is open for all undergraduate students.
General requirements:
Undergraduate students in their 3rd or 4th year pursuing a Bachelor's Degree
Fluent in English (Verbal & Written).
Age limit: 17 – 25 years old.
Minimum GPA: 3.25/4.00 (might be higher for some position).
Able to work full time from Monday – Friday, 9am – 6pm.
Able to fulfill internship program for at least 3 months (extendable until a total of 6 months).
Aware that this is not a pre-recruitment for full-time employees.
Available positions :
Public Relation Intern
Event Intern
Graphic Designer Intern
Video Editor Intern
Digital Media Intern
Conventional Media Intern
Internet Product Reseacher Intern
Internet Business Intern
Human Resources Intern
Business Intern
For detailed job description and special requirements :
https://drive.google.com/file/d/10tbwanzZw9eEKCGs-OzlIhwywqGw-Don/view
Send your application now to:
https://docs.google.com/forms/d/e/1FAIpQLSfHk7dfvWo1Cfx_vqqGVL_xC-7NGc32FG2fOeESbGNmCvbodA/closedform
Application Deadline : 14 August 2022